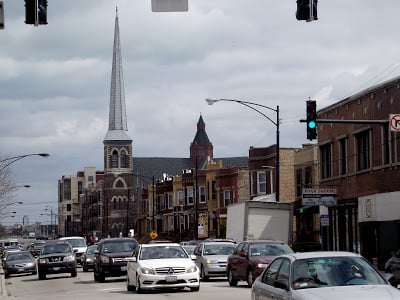 (Photo Credit: Big Shoulders Atlas)
Last week the team dispersed all throughout the Avondale in Cook County (home to Polish Village) and Irving Park area to spread the news about energy efficiency. We were able to stop into a lot of great businesses, including Paws and Feathers and Clearly Cares Dental. Chief O'Neill's Pub & Restaurant was on our radar, but that 4 PM open time made it so we just missed them (next time, though!).
We also passed by two of our customers, J & C Auto Body Inc and Taqueria Traspasada. We love being in communities where we have current customers to go say hi to and check in on!
Feeling hungry, we stopped into another customer of ours, Alps Pancake House, to refuel and get back on the road. To say their food is absolutely delicious and filling would be an understatement, definitely worth a checkout for yourself. Warning: You will become addicted to their food.
We ended our outreach at Revolution Brewing to debrief about our day and to drink some great beer (Anti-Hero will forever be a favorite, yum). Going over our day as a whole, we were able to come together as a group and refine how to be more impactful in our outreach efforts in order to help businesses make the transition to energy efficiency. We're hoping for a full energy-efficient neighborhood in the near future with the help of our savvy expert team!
---
Think your business could use some updates? Reach out to us for a complimentary, no-hassle assessment of your business to see where the hidden savings are!