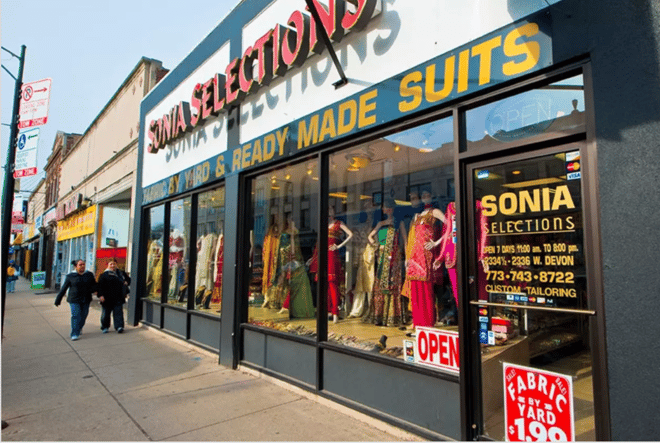 (Photo Credit: Choose Chicago)
Our fifth outreach took place down Devon Ave in West Ridge, the heart of Chicago's Indian and Pakistani communities. We loved taking in the rich culture and bright colors everywhere as we tried to raise awareness to business owners about energy efficiency.
Devon Avenue is home to a few of our already customers, including Raj Jewels and Punjab Sweets. We are also happy to announce that Devon Avenue was our best outreach day yet! We were able to talk to a lot of business owners who were very receptive to how energy efficiency could help their business, both aesthetically and financially.
To end our day we ate at Udupi Palace, one of our customers. We absolutely love showing love to our customers, after all, they are basically family! The food was unbelievable, with us all trying different things on the menu. From curry to vegetable uttappam, we definitely did not leave hungry. If you're looking for a welcoming, friendly environment with great priced and tasting food, we highly recommend checking out Udupi Palace!
Bellies full, we left Devon Avenue and headed home. We will be back, however, to check in on the great businesses of West Ridge and to keep helping the businesses of Chicagoland save money $$.
Know a neighborhood or business in Cook County (or even your own business!) that could use our expert help?