So, you want a smart thermostat? I don't blame you – they're cool, sleek, and interactive. Set them up once and they just run. Pretty nice. Let's talk about what they'll run you.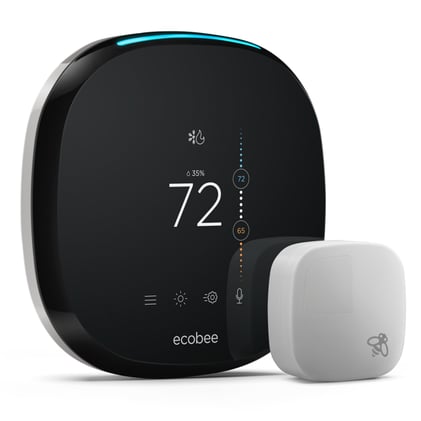 Installing a smart thermostat has 3 components – the equipment, the installation, and the set-up - and there are costs associated with each.
The Equipment
We'll compare two big name smart thermostat brands. While there are options outside of what I'm mentioning, they will likely fall in line with the pricing of the models I will discuss.
Nest comes in two varieties, Nest and Nest E. The standard version will give you a broader color palette to choose from and a crisper display, but is otherwise identical to the economy version. They will run you $249 and $169 respectively.
Ecobee comes in four varieties (3 residential and 1 commercial), ecobee4, ecobee3, Smart SI, and EMS SI.
The Ecobee4 matches the Nest at $249 (though ecobee comes with a remote sensor). The Ecobee3 is a later version and besides being out of date, is otherwise identical to the 4th gen. The Smart SI on the other hand lacks the sleek design and comes with fewer built-in features than the Ecobee3. Despite this, at $179, it will cost you more. Probably best to pass on this one.
While your choice will ultimately come down to which smart home company you want to pledge allegiance to (Nest is part of the Google suite, and Ecobee compatible with Amazon's Alexa), my vote for best value is the Ecobee4. And this is coming from a guy who installed his own Nest. In my opinion, the remote sensors that work with the Ecobee are more than just cool. They are practical for optimizing comfort and efficiency. In addition, I think Amazon sits comfortably poised to dominate the voice-activated world and I would bet on any hardware that incorporates their OS.
The Installation
Good news here - you can probably do this yourself. The Nest is incredibly easy and intuitive to set up. So long as you can match colors and patterns, pulling that old thermostat off the wall and fiddling with the wires is actually not very difficult. (I'm color blind and I managed!)
Ecobees are similar in set-up but prefer to draw their power from their own designated hard line instead of stealing from the HVAC system. Doing so will give the thermostat more reliability, but if you don't know how to run new C wire down from your HVAC unit to your thermostat, you'll really want to call a professional. Hiring a pro will cost you $100 on a good day but can push you past $200. It's a bummer, but you can't do it and it needs to be worth the installer's time.
The Set-Up
There's no physical cost here, but you'll be spending precious time to get everything hooked up to your wi-fi, set your preferences, and tweak the scheduling. A basic set-up is going to take you 15 minutes, but a deep dive to really set your comfort preferences and occupancy schedule may take an hour or so.
However, even if all you do is hook the thermostat to the internet, it will eventually program itself. It'll just be a slightly bumpier road as it learns your behaviors.
The Bottom Line
If you go the absolute most economical route
You'll choose the Nest E,
You'll Install it yourself,
And you'll let it program itself.
You'll pay $169 and about 30 minutes of your time.
If you want the best,
You'll choose a Nest or Ecobee4,
You'll let a pro install it,
And you'll pour extra time into programming it.
You'll pay $349 - $449 and about 1 hour of your time.
That's what it'll cost you to install a smart thermostat. Your business might qualify for rebates and incentives through ComEd's Small Business Energy Efficiency Program. We can help!